Credits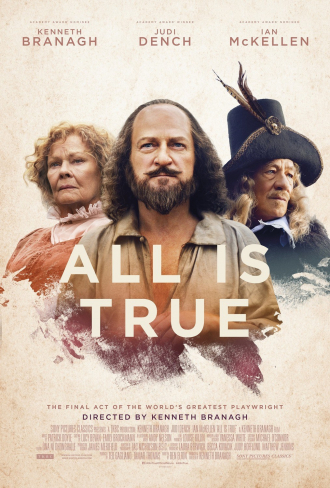 All Is True
Director:  Kenneth Branagh
Writer: Ben Elton
Director of Photography: Zac Nicholson
Film Overview 
A depiction of the final years of one of the World's greatest playwrights in history.
The story depicts Shakespeare returning to his home after the destruction of The Globe Theatre alongside the death of his son, and trying to repair the damage between his wife and daughters who have been living a life without him. The film addresses Shakespeare's final years and addresses his failings as a father and husband absent from his home for 20 years. 
The film stars Dame Judi Dench, Sir Ian McKellen and Kenneth Branagh as an aging Shakespeare. 
Filming
Filming for this wonderful depiction of Shakespeare's later life took place in Dorney Court, a 15th Century manor house situated just outside Windsor Castle and a similar design to Shakespeare's home 'New Place' in Stratford-upon-Avon which was demolished in 1759.
Aerial filming by drones using  Alta 8 & Movi Pro rigs were used to capture the gardens, grounds and manor house. The lightweight filming equipment and rigging make it unobtrusive for the actors and easier to recreate the delicate cinematography needed for this era. 
Our team of drone filming specialists worked alongside Director of Photography, Zac Nicholson to recreate 17th Century England, who wanted soft lighting, delicate touches with a 'painterly look' that would be reminiscent of a Turner painting. Zac also used matte painted glass screens in front of the camera lens to blend aged technology with current cinematography and CGI. 
All Is True was released in the cinemas 8th February 2019 and is now available to watch on Sky TV.