Credits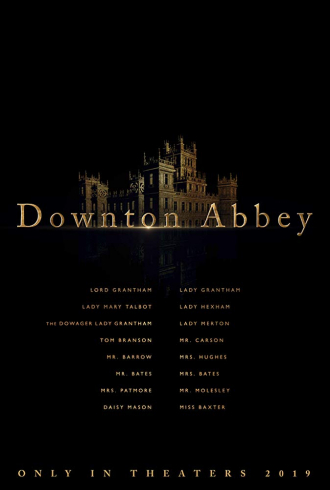 Downton Abbey Movie
The eagerly awaited Downton Abbey movie is set to hit the UK cinemas September 13th 2019 (09/20/19 USA), distributed by Universal Studios International and Focus Features. 
Our aerial filming team were thrilled to be working on this much loved addition to the Downton Abbey family. Written by Julian Fellowes, the movie follows on from the famous 6 part series set in the stately home at Highclere Gardens, where the aristocratic characters Lord and Lady Grantham have the seat at the fictionally named stately home 'Downton Abbey' in Yorkshire.  
There's not much we can give away about the actual movie at this stage, however we are allowed to drop that you will see a fictional royal appearance from Queen Mary and Princess Royal. 
Marzano films began drone aerial filming in September 2018 capturing the Downton family at the great house in Hampshire, taking in this glorious estate and the huge stately home. Our drone filming team also filmed the fictional home of Baron and Baroness Merton at 'Crawley House', which is also fictionally set in Yorkshire, however the external filming for this property actually takes place in Bampton, Oxfordshire and the internal filming is in Beaconsfield, Buckinghamshire. 
Working with celebrities such as Dame Maggie Smith, Hugh Bonneville and Matthew Goode to name just a few from this fabulous new film is always a real honour. Our aerial filming crew always ensure their time on camera is picture perfect, never interrupted by technology but rather using the drones to film these close scenes to create depth of field, interesting aerial perspective , and to bring unique dynamics to the whole film. 
Drone filming provided more diverse camera angles for the filming director Michael Engler to capture images that would be difficult for other camera equipment to shoot, without interrupting the actors or the flow of the sequence. Our drone technology is exceptionally advanced, using the Alta 8 and Movi Pro in both underslung and overslung camera angles for great benefit to the overall performance captured. 
Aerial filming took place in and around Highclere Gardens set in Hampshire, Bampton in Oxfordshire, Beaconsfield in Buckinghamshire and drone aerial filming over Yorkshire countryside and Ripon to place the Yorkshire scenery with both Lord Crawley's estate and Lord Merton's Oxfordshire cottage.     
As any dedicated Downton Abbey fan will know the servant areas beneath the house in the hall and the kitchens aren't actually filmed in the same place, they are a fictional fabrication purposely built in Ealing Studios several miles from Highclere Gardens, these scenes were aerially filmed independently of the house and therefore several drone team members worked across different locations at the same time, piecing the footage together to create the servants leaving the kitchen and entering the house seamlessly. 
We look forward to seeing this on our screens September 13th 2019!