Credits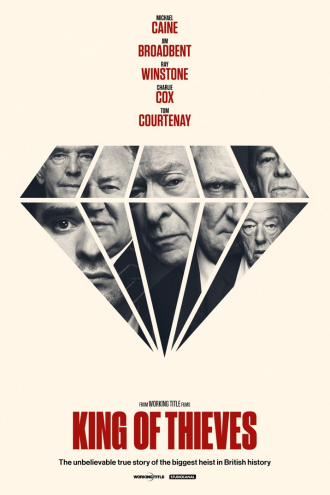 The King Of Thieves
We were delighted to be working with director James Marsh and his handling of this movie about the infamous Hatton Garden jewellery heist.
The King of Thieves movie is based on the true story of a band of missfit thieves set to have one last hurrah in London's infamous jewellery district, before slinking off to retire until something all goes horribly wrong. Michael Caine starring as Brian Reader, the leader of the thieves helps the group to steal millions of pounds worth of jewellery but as the police investigation gets underway, the cracks in the group of thieves begins to unravel.  
It is a Working Title film produced by Tim Bevan and stars an illustrious cast of British actors including Michael Caine and James Broadbent.
Marzano Films aerial filming team coordinated both the police helicopter aircraft sequence scene and using elite aerial camera equipment the mini Eclipse which played it's part in capturing both day and night aerial scenes over Hatton Garden and central London.
The King of Thieves full cast includes: 
Michael Caine - Brian Reader 
Michael Gambon - Billy The Fish Lincoln
Charlie Cox - Basil
Jim Broadbent - Terry Perkins
Francesca Annis - Lynn Reader
Ray Winstone - Danny Jones
Tom Courtenay - John Kenny Collins
Paul Whitehouse - Carl Wood
Kelly Shirley - Terri Robinson
Keely Cat Wells - Ballerina
Matt Bardock - DC Amy
Ann Akin - Jeweller 
Bernado Santos - Police Officer