Equipment
---
Vaxis Storm 3000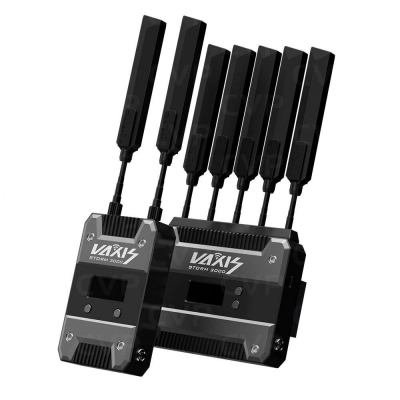 Overview
Super long distance transmission up to 1 kilometer transmission distance, 360 degree. Meets all shooting demands for big production, football events, outdoor sports.
With the enhanced signal anti-interruption ability, video quality loss of Storm 3000 is significantly better than other same grade products. The Storm 3000 allows stable video transmission in extremley complex environments.
New professional mode gives you less delay than in regular mode and meets the requirement of news, sports or other live broadcasts. 
Restructured channels supports more equipment working at the same time to reduce signal interference.
Embedded ports to avoid damage from physical shock. 
Antenna protective cover gives strong protection to the most frequently damaged antenna and is easy to assemble and disassemble.
Integrated Mount cobining the battery mount and case into one to build a stronger and lighter body. 
Active Cooling 35mm smart cooling fan, allows for longer working times in hot environments.
Contact​ one of our team for more information